DevForce Universal
The multi-client solution
DevForce Universal allows you to reach any user, anywhere. Our
impressive features
make it easy to build desktop, mobile, and Web applications and deploy them to all of today's most popular client platforms.
One infrastructure. Multiple clients.
Build your application with DevForce and use your server-side code to drive multiple front-end clients. This makes it easy to standardize your development environment onto a single framework and lets developers move seamlessly across projects.
A single domain model.
A single domain model enables all client technologies to work with a shared domain model making it easy for you to develop, test, and deploy your applications across different client types because of code reuse.
Future proof.
Protect your investment against future changes and introduction of new technologies. Whether it's WPF and Silverlight today and HTML/JavaScript tomorrow, DevForce protects you from costly rewrites in today's rapidly changing world.
See DevForce in action.
See how easy it is to get from File > New to a working DevForce application in the DevForce 2010 Silverlight Quickie.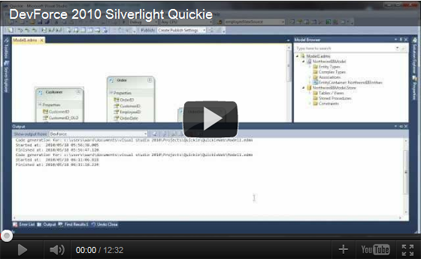 Download DevForce Express for FREE.
Download DevForce Express and see how DevForce makes development easier. Each edition of DevForce Express demonstrates the full power of DevForce but is limited to a maximum of 10 entity types.